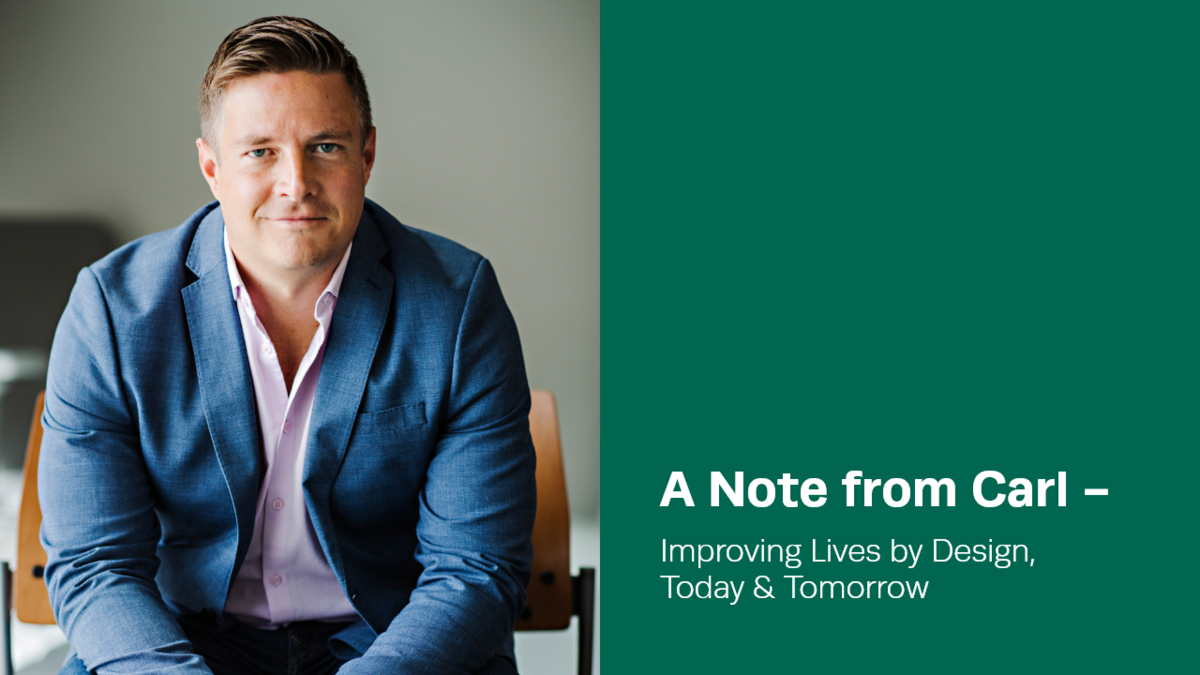 It's been a busy few months at Stance, as our team prepares new product lines for release and gears up for a successful exhibit at this October's HCD Conference + Expo. But as we continue the important work to champion our exceptional products to customers in the healthcare world, we are also equally invested in Improving Lives by Design from within — and today, I'm pleased to share some of the work we've done together to make our team even stronger from the inside.
First and foremost, we've spent time examining what our mission statement, Improving Lives by Design, means for us all as equally valuable team members sharing a common vision and goal. When we launched the new brand last year, we focused the mission statement externally around how our products support patients, care providers, and visitors toward a positive, healing healthcare experience. Today, that's still our guiding compass. But recently, we've reflected more inwardly on this, and considered how each Stance team member contributes to this higher purpose by showing up with this mission in mind each day.
A result of these conversations that I'm excited to share is our new core values, which empower our every team member with a collective ethos that upholds this mission. At Stance, we provide industry-leading products and unmatched quality that Improves Lives by following these STEPS together:
 
Small things are the big things. We take care of the small things, in order to get the big things right. Our attention to detail is how we exceed expectations.
Teamwork over ego. Every one of us plays a role in our success. Our team is humble, collaborative, and mutually supportive: We give credit where it's due and own up to our mistakes.
 
Excellence is a moving target. We strive to continuously improve ourselves so that we can be better, healthier, and more knowledgeable tomorrow than we are today.
Powered by positive energy. We rely on intentional positivity to energize and bring out the best in each other, and embrace opportunities to celebrate our individual and collective successes.
Simply get it done. Our team does what it takes to overcome obstacles, find innovative solutions, and deliver results.
As a team, it was important to us that we chose values that go beyond lip service to authentically describe who we are as a company — and would serve as guidelines to remind us to stay true to who we are as we continue to scale the business. I am proud of the way these values reinforce that goal, and even prouder of the team who works together to implement them.
As your leadership team, we take this commitment seriously. In the spirit of our third core value, "Excellence is a moving target," we have been deeply considering the organization, its growth, and how we can best work to lead the company toward continued momentum and progress. After some reflection on the best paths to get there, we have decided to update some of our roles and responsibilities. Effective immediately, my role will change from President to CEO, with Brian Kennedy stepping into the newly created role of Chief Operating Officer.
As COO, Brian will become even more integrated into the day-to-day business activities, and provide more structure and support for our organization's many different teams. Brian and I will work closely together, and we will be interchangeably available to our colleagues at any time. Our hope is that the increased support from Brian's new role will provide even more fuel to continue powering our team forward as we pursue the many exciting new paths toward growth and success – paths that always lead, most importantly, to Improving Lives by Design.
Carl