Reliving the Highlights of Stance Healthcare's NeoCon 2023 Experience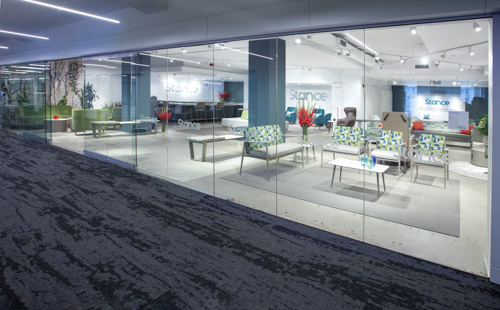 After months of anticipation, NeoCon 2023 finally arrived, and Stance Healthcare made a grand entrance. The premier event for the commercial design industry provided Stance Healthcare with an exceptional platform to showcase its latest innovations and engage with industry professionals. We invited attendees to the new permanent space where we showcased a wide selection of Healthcare, Behavioral Health, and Contract furniture. With Stance's award-winning customer favorites and exclusive first looks at innovative new arrivals, NeoCon attendees experienced the "Stance difference" in more than a dozen collections set to be exhibited in the 2,500-sq.-ft. space.
Product Triumphs:
Our latest products, Abrazo and the Kiwi Bean Bag Chair, stole the show at NeoCon. Abrazo, a patient chair available in various base models, received an overwhelming response from attendees. Abrazo left a lasting impression with its comfortable design and spacious clean-out area. On the other hand, the Kiwi Bean Bag Chair, designed with de-escalation in mind, impressed visitors with its deep and cozy structure, ensuring a calming experience. Not to be overshadowed, the Flo Bed and Bedside Table garnered praise for their height, storage options, and unique fluid management system.
Recognitions:
During NeoCon, our healthcare seating product Spry was honored as an HiP (Honoring Industry People) selection, a testament to our commitment to excellence and innovation. Moreover, the event allowed us to initiate conversations surrounding contract furniture and the evolving standards for durability and cleanability in healthcare furniture. Stance Healthcare is dedicated to meeting these new benchmarks and providing cutting-edge solutions to the industry.
NeoCon Networking:
Our space at the event was abuzz with activity, attracting a constant flow of attendees. The Sickler team, our Chicago based rep group,  played a crucial role in bringing our exhibition space to life at NeoCon. Despite a tight timeline, Sickler worked its magic and designed a stunning space that perfectly showcased our furniture collections. We were thrilled to engage in person with our representatives, dealers, and designers, fostering meaningful conversations and connections.
Unforgettable Moments:
NeoCon wasn't just about work; we also found time to enjoy ourselves. We had the pleasure of attending the MRL party, where we celebrated and networked with fellow industry professionals. Good food was another highlight of our time in Chicago, with deep-dish pizza, Moe's Cantina, and Havana tantalizing our taste buds.
All Hands on Deck:
The Stance Healthcare team was in full force at NeoCon, ensuring our presence was felt throughout the event. From our CEO, Carl Kennedy, to our Marketing Manager, Christy Evangelista, and the entire lineup of dedicated professionals—including Tracey Heimpel, Brian Kennedy, Shane Castle, Cesar Fernandez, Sandra Castle, and Sawyer Levack—everyone played a pivotal role in making NeoCon a resounding success.
NeoCon 2023 was an incredible experience for Stance Healthcare. From showcasing our exceptional team and engaging in meaningful conversations to introducing groundbreaking products, we left an indelible mark on the event. The positive feedback and interactions with industry professionals have reaffirmed our commitment to pushing boundaries in healthcare furniture. We will take the invaluable insights gained at NeoCon back to the office, propelling us further toward our mission of creating exceptional environments for healthcare spaces.