The Kite Chair Offers Functional Versatility For Small Spaces.
When it comes to design, Stance Healthcare approaches every piece of furniture with purpose. Each product has unique benefits, applications and attributes that make it ideal for certain spaces. The Stance Kite Folding Chair is no different. This versatile, durable chair has a variety of functional and flexible features that make it perfect for environments where space is limited, like patient rooms and waiting rooms.  
The Kite Folding Chair's defining feature is its highly durable frame that can be folded and neatly tucked away to create more room in the space. It also comes with a wall mount for quick and easy storage. This is great for small spaces like patient rooms or multi-use areas where additional space might be needed throughout the day.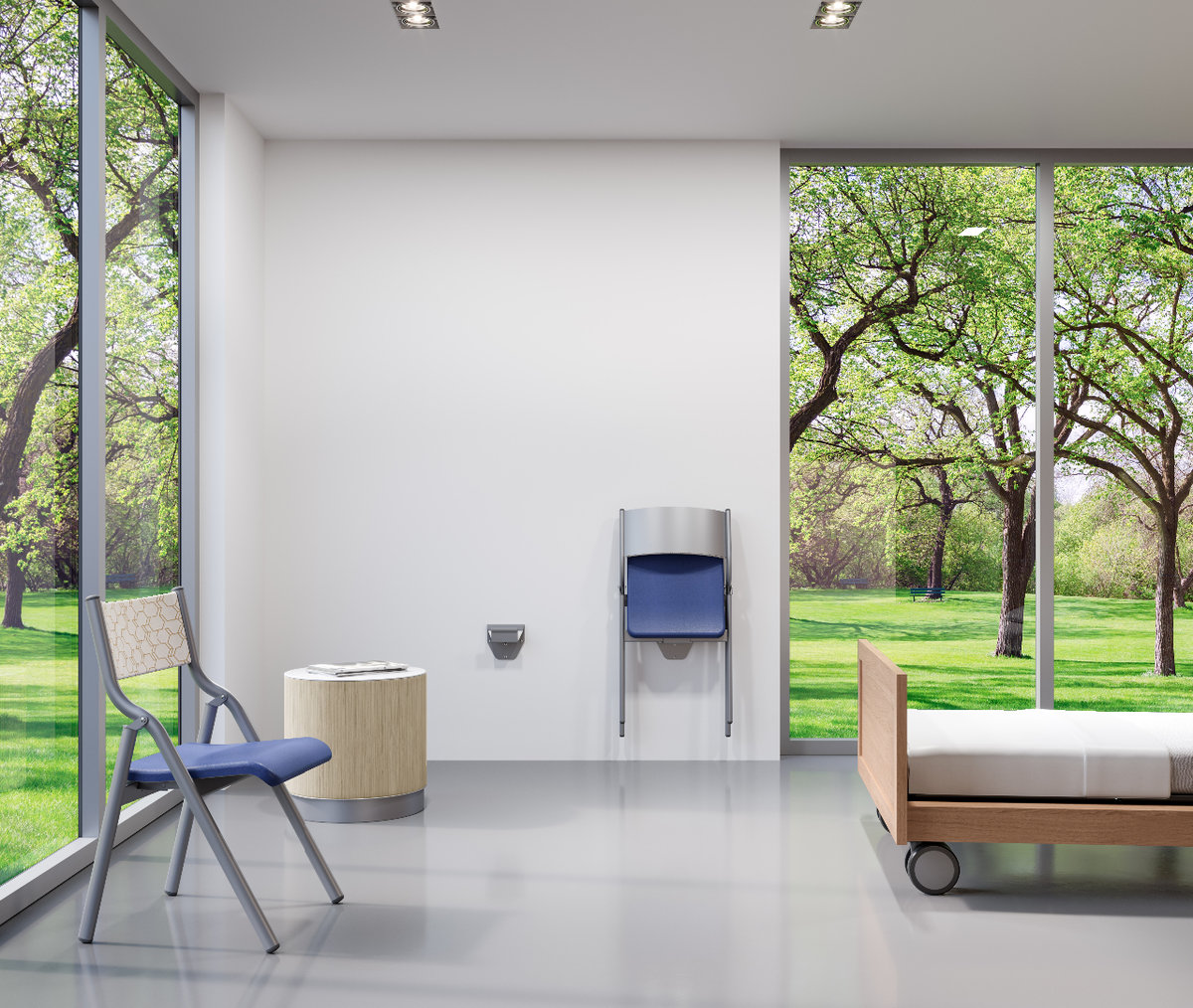 Available in both metal and wood frames, the Kite Folding Chair gives healthcare providers options to fit the look and feel of their facility. The metal frame is available in 6 different finishes with a clean, modern aesthetic. The collection of Stance metal finishes consists of Smooth Black, Textured Black, Textured Nickel, Smooth Silver, Gunmetal and Metallic Beige. The metal frame is constructed from 14 and 16 gauge material, so it can withstand heavy use and continue providing flexible functionality time after time. The stylish and durable wood frame finishes are particularly popular and help provide a classic, distinguished look. With the addition of four new colors in 2022 — Aria, White Chocolate, Dolce Vita, and Palamino — there are 12 total wood finish options to choose from. Both the metal and wooden models are intentionally designed with a contoured back and waterfall seat to provide added comfort and help patients and visitors feel more at ease in the space.
There are a number of customization options available for the Kite Folding Chair to make it even more tailored to fit the specific needs of certain spaces. Those options vary from custom frame finishes and contrasting fabrics to give the space a more distinct look, to moisture barrier and protective bumper on the chair back for added safety and protection. Plus, there are two sizes to choose from with 16" and 18" seat width options.
The Kite Folding Chair is another example of how Stance Healthcare designs products for every space, and every space's needs. To learn more about all the finishes, features and functionality of the versatile Kite Folding Chair, visit StanceHealthCare.com