At Stance Healthcare, we are committed to continually learning about the healthcare industry we serve – from its customers, to the trends and best practices shaping how care is delivered. Thanks to our new showroom in Charlotte, NC, we are able to engage and build connections within the Charlotte-area community, which is home to several major healthcare systems that serve multiple regions throughout the U.S.
The North Carolina chapter of Women in Healthcare is one of these connections, and they recently invited Suzanne Fawley, our Behavioral Health Interior Designer, to present her CEU, Behavioral Health Design 101: Learning from the Past to Design for the Future, at one of their meetings.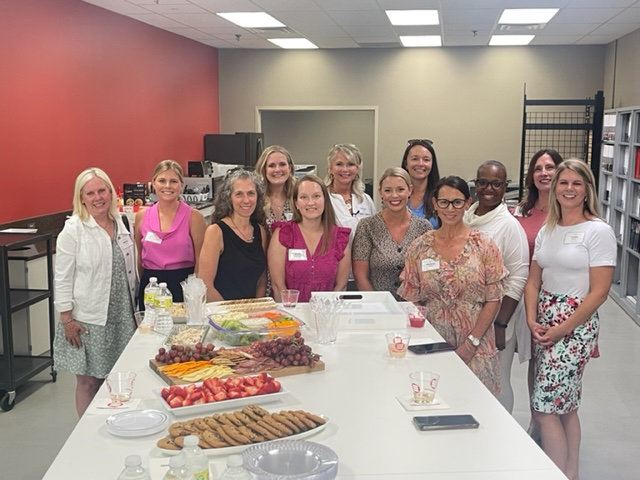 We were pleased to be in attendance with this gathering of women, who represented many facets of healthcare facility planning, from project management to architecture and design. Throughout the evening, we enjoyed hearing their various perspectives in the context of not only Behavioral Health facility planning, but the challenges of supporting different kinds of today's evolving healthcare facilities – including working under budget constraints, how to prioritize the privacy and dignity of patients presenting different needs in one space, and tips for preventing injury and wear and tear in products.
Suzanne's presentation provided the springboard for conversation throughout the evening. Her top-ranked IDCEC-accredited presentation provided a thorough overview of both the history of psychiatric facilities and modern-day Behavioral Health care delivery, with lessons learned from the past informing today's best practices for treatment environments. As she notes in her presentation, prioritizing the dignity of patients can be achieved in many ways – from the welcoming design of an "open" intake area, to the comfort-forward furniture that offers a more residential feel – like Stance's "beautiful but tough" Verity Lounge Collection.
Many of the women in attendance noted that such Behavioral Health design principles can and should also translate to other types of facilities, including emergency departments, which receive growing numbers of patients experiencing mental health crises and require a safe environment to support their intake. Attendee Elissa Sturdivant, a project manager with Atrium Health, referenced a coastal North Carolina military hospital constructed in the late '90s, which achieved this balance of safety with dignity for its veteran patients.
Sturdivant said of Womack Army Medical Hospital in Ft. Bragg, N.C.: "I feel like they were definitely ahead of Behavioral Health design with the construction of this facility in 1998-99 because it is an inviting "one-stop shop" for soldiers and their families without feeling as though they are confined to a clinical setting."
Whether in a therapeutic setting designed for Behavioral Health rehabilitation, in an E.R., or at a military hospital, Stance is encouraged to hear the principles of safe, comfortable, durable Behavioral Health design are increasingly being applied and appreciated throughout the healthcare facility planning universe. We applaud these accomplished and knowledgeable women for taking the time to exchange their insights with each other and with us, and we look forward to continuing to learn and grow alongside them and our many other professional peers leading the way in this space.
Women in Healthcare's mission is to promote the professional development of women in the healthcare industry through networking, education, and mentorship. For more information about Women in Healthcare, including how to find a chapter in your area of the U.S., visit https://www.womeninhealthcare.org/.