With decades of experience providing quality healthcare furniture for all types of settings, Stance Healthcare understands the importance of a solid foundation. The recent additions of wood and swivel star base chairs to our Valet Lounge Seating collection is the latest example.
Adding more variety to an already-versatile line, the addition of the two new base options will help Valet support more needs and complement more styles and settings than ever before. All while maintaining an inviting look and feel that create a space of respite and help end-users feel more at ease in more healthcare environments – from the doctor's office to the patient's bedside. 
The new wood base adds a sense of warmth in addition to reliable durability and a classically modern look from the ground up. This base is offered in an array of finishes to fit any fabric option – including our newest finish colors, Aria, White Chocolate, Dolce Vita, and Palomino – in any setting.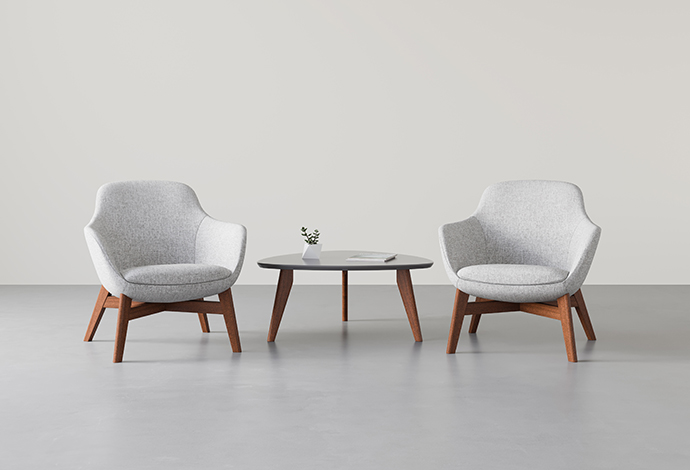 The swivel star base allows for more range of movement without sacrificing strength and stability. Offered in a polished aluminum finish, this versatile new base design can be customized with a variety of fabrics that leave plenty of room for custom design possibilities – from the simple and understated to the curated fabric collection developed in collaboration with CF Stinson.
Like every product in the Valet Lounge Seating collection, the wood and swivel base models offer contemporary flair, designer-curated fabric options, and durable, molded-foam comfort. While color, fabric and finish options might seem like simple style preferences, it's details like these that help contribute to a positive, healing healthcare environment. 
Offering comfort and durability is a balance, and Stance strives to strike this balance with every single product we manufacture. The finishes used in those products play a significant role in achieving that balance. Finishes and colors play a factor in the overall experience, and in commercial settings like healthcare, selecting the materials and finishes must be intentional. These decisions are made with care and consideration to provide users with a better experience across a variety of healthcare settings, from hospitals to specialty treatment centers. By using soft design lines and soothing tones, patterns, and hues that convey a sense of calm and comfort, the Valet line supports Stance's signature design philosophy: Improving Lives by Design. This commitment aims to improve the healthcare experience for patients, visitors, and care providers through comfortable, beautiful, long-lasting and easy-to-clean products.
Learn more about all the forms, fabrics, and finishes of Stance Healthcare's Valet line of lounge furniture here. 
About Stance Healthcare
Founded in 2006, Stance Healthcare manufactures furniture for healing environments, with a particular focus on hospitals and behavioral health facilities. Stance Healthcare has a reputation for providing high-quality products that meet ever-evolving demands in the areas of design, comfort, safety, durability, renewability, infection control and environmental sustainability. With a strong understanding of patient-centered design, Stance Healthcare is committed to providing innovative furniture solutions that support the healing process. Please visit stancehealthcare.com for the latest news and in-depth information on Stance Healthcare and visit https://stancebh.com/ to learn more about our Behavioral Health offerings and insights.