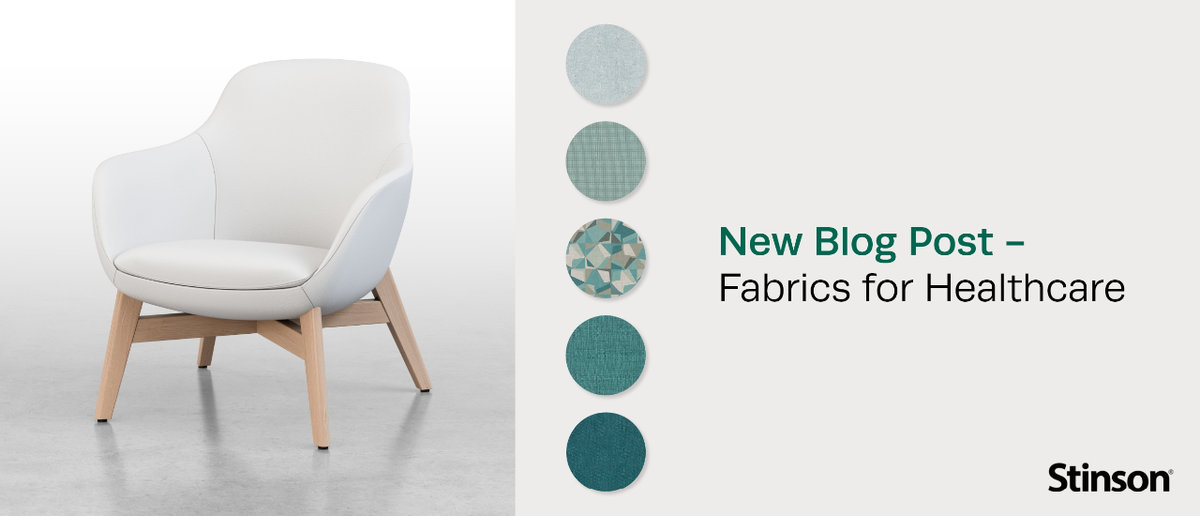 Meet Your Match With Stance Healthcare + CF Stinson

To meet growing demand for high-quality healthcare delivery, today's healthcare built environments of all sizes and practice areas demand more from the furniture and other design selections that support every space. From the waiting area to patient rooms, fabric is a crucial element that heavily influences the end user's overall healthcare experience.
In addition to the post-COVID era's heightened standards for cleanability, healthcare facilities must select fabrics that are durable — while still offering textures, patterns, and tones that support a positive experience for patients and care providers. And with healthcare products being built to last for sometimes decades, fabrics are expected to deliver for just as long as the products they cover. Put simply: Healthcare fabrics must do it all.
So, what do designers, architects, and facility planners need to know about selecting fabrics for healthcare environments? Leading textile solutions company CF Stinson and award-winning healthcare furniture manufacturer Stance Healthcare are longtime collaborators that specialize in creating fabric solutions for healthcare — and in this blog post, they're teaming up again to share some insights and best practices about all things healthcare fabric.
Healthcare fabrics are designed for the long haul
As the saying goes, quality precedes quantity — and today's healthcare facility purchasers are increasingly selecting products that will stand the test of time. Fabric is a critical component to ensuring the longevity of a product, which is why planners and designers gravitate toward performance fabrics, such as Stinson and Stance's healthcare-grade coated fabrics, and other performance fabrics that feature woven designs, yet are bleach-solution cleanable. One example is the popular Crypton, which is a versatile option for indoor-outdoor or other high-use areas.
Both Stance and Stinson take the call for quality seriously, as the two companies are continually exploring new ways to evolve products or collaborate with credible third parties to oversee and enhance the integrity of their performance-grade healthcare fabrics. For example, Stinson takes pride in being one of the first brands to champion CFFA Healthcare 201 certification. Developed in conjunction with industry consultants and design directors for major hospital systems, the standard assists specifiers and designers in more easily identifying coated fabrics for the healthcare environment. To become certified, products must pass a series of important and relevant tests, with the goal of reducing product failures.
Interestingly, this high standard of quality has also crossed over into commercial and even residential interior design in recent years, as the appeal of healthcare-grade fabrics has expanded into mainstream design in the post-COVID era. For healthcare and beyond, the high standards applied to healthcare fabrics translate to a long-lasting investment for any high-use space.
Healthcare fabrics are designed for the user's comfort
The sensory aspect of healthcare delivery is a crucial aspect of every patient, visitor, and care provider's experience, and so much of this is informed by the colors, patterns, and textures applied to fabrics in a space. Both Stance and Stinson are committed to offering fabrics that support the purpose of the unique areas for which the products are specified. For example, the nature-inspired colorways in Stance's Behavioral Health collections conjure a sense of calm for patients undergoing intensive therapies. And Stinson offers a variety of options to support every application, from quick in-and-out medical office buildings to emergency departments that require longer visits. No matter the intent of the room, fabrics are a great place to start when considering the comfort of a space.
The importance of comfort was top of mind when Stance and Stinson recently developed a virtual, interactive fabric card specifically for Stance's Valet lounge chair. Valet, a popular new release from Stance that works well in applications ranging from therapeutic zones to waiting areas, requires its own unique list of recommended fabrics, due to its unique shape and the many unique properties required of healthcare fabrics. Users of the interactive fabric card can order memo samples, view specifications and Stance grade, and easily order. View the See/Sample/Spec tool here to see how comfort-centered designs and healthcare fabrics can work together.
Healthcare fabrics are designed for infection control
By partnering with fabrics pioneers like Stinson, Stance provides built-in peace of mind to its customers who prioritize cleanability and infection control in the furniture they select. Cleanability and infection control have always been gold standards for healthcare fabrics, but Stinson is a leader in the continued evolution and development of fabrics that meet tomorrow's infection-control needs.
For example, Stinson's C.A.R.E. line was awarded the 2021 Nightingale Gold Award and Best of Competition at the Healthcare Design Conference and Expo for its woven and non-woven fabrics that hold up against even the harshest cleaning and disinfecting protocols. Each product in the collection has been thoroughly tested and approved for use with myriad cleaners and disinfectants, including many that appear on the EPA's list for use against SARS-CoV-2. In addition, a battery of physical property testing has been conducted, providing healthcare designers the confidence they need to specify the correct product for their application.
Stance + Stinson are your partners in healthcare fabrics
For any designer seeking the durability, comfort, and cleanability only healthcare fabrics can provide, Stance Healthcare's furniture and CF Stinson's industry-leading fabrics are a winning combination. In addition to both companies' expansive product collections and expert in-house design teams, both Stance and Stinson offer designers innovative tools that aid in the specifying process. Explore Stinson's See/Sample/Spec fabric searching tool here and Stance's collection of high-performance, beautiful healthcare fabrics here to get started today.