Understanding The Importance Of Being BIFMA Compliant.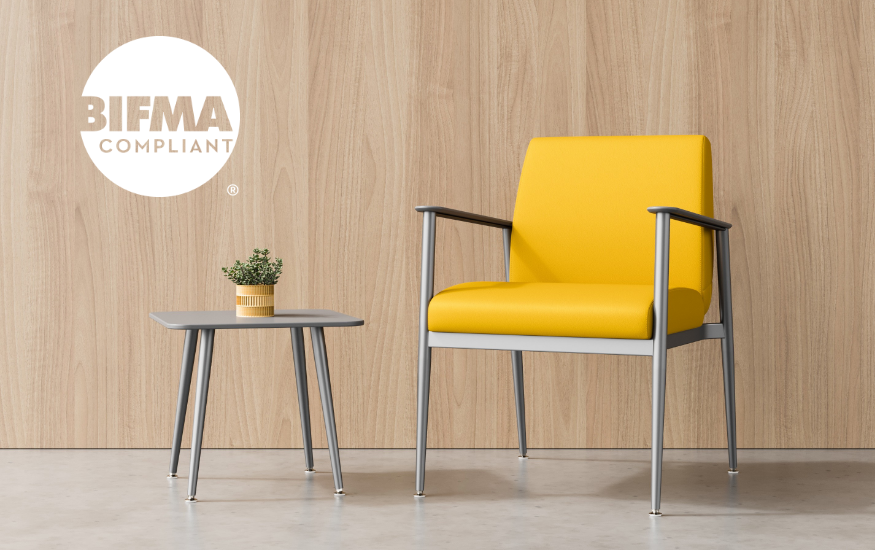 What is BIFMA?
The Business + Institutional Furniture Manufacturers Association, or "BIFMA", is the not‐for-profit trade association which sponsors the development and refinement of standards for manufactured furniture, and it continues to educate the industry on the importance and application of those standards. BIFMA also promotes sustainability throughout the life cycle of furniture, and it offers statistical and educational resources to its members and the public. Simply put, BIFMA helps foster value, quality and innovation in the industry.
 What does it mean to be BIFMA Compliant?
BIFMA Compliant is an industry-wide registry of furniture products that conform to BIFMA safety and durability standards. BIFMA Compliant provides clarity to the market by differentiating products that meet these qualifications. Manufacturers around the world are invited to participate. To be BIFMA compliant, a product undergoes many rigorous tests such as static load loading, dynamic loading, and durability testing. There are a variety of BIFMA Standards across a range of furniture categories to ensure users can feel confident that the product is safe and functions correctly.
How Do You Become BIFMA Compliant?
Participating manufacturers sign a formal agreement with BIFMA and pay fees to participate.
Product listings are input by manufacturer representatives who are provided access to the system.
Product listings will undergo an initial quality check prior to listing in the aggregated registry.
Test reports will be subject to random audits.
Participating manufacturers will be provided with a trademarked "BIFMA Compliant" mark for use on products and in marketing materials.
What BIFMA Standards apply to Stance Healthcare?
ANSI/BIFMA X5.4-2020 Public and Lounge Seating: Covers seating typically found in indoor public spaces such as waiting, reception, visitor seating in patient rooms, dining/cafeteria settings and other gathering areas. The requirement for this standard uses 275 lb. individual as the basis. Public and Lounge seating may also include units with multiple seating positions. Usually, these products have limited adjustment features. Stance offers a variety of BIFMA Compliant products that meet these standards, like the popular Accent, Clover, Oasis, Verity, Vista and Cassia seating options—just to name a few.
ANSI/BIFMA X5.41-2021 Large Occupant Public and Lounge Seating: Covers seating typically found in indoor public spaces such as waiting, reception, visitor seating in patient rooms, dining/cafeteria settings and other gathering areas. There are two sets of requirements in this standard. One set uses the 400 lb. individual as the basis and the second set uses the 600 lb. individual as the basis. This is a relatively new standard, but some of Stance's most popular seating options like the Oasis Recliner,Spry Seating Collection and Carson Recliner meet the 600 lb. requirements. In addition, Stance is a leader in compliance with three of the four Large Occupant Seating compliant products listed on the BIFMA website. Moving forward, Stance is testing everything to the Large Occupant Seating requirements, so Stance will continue going above and beyond to over-engineer all products, ensuring they meet the new necessary requirements.
Why is BIFMA Compliant important?
As a leader in the healthcare furniture industry, Stance understands the importance of standards and the organizations that enforce those standards. By designing to a higher standard, Stance and the industry as a whole are making the healthcare experience safer, more reliable, and better overall for everyone involved. But, BIFMA Compliant doesn't just affect the end user. It has an impact on every level of the industry.

For manufacturers, BIFMA Compliant means they validate products against rigorous performance standards, provide visibility to specifiers and buyers, and help combat rising counterfeit claims.
 
For specifiers, BIFMA Compliant allows for greater ease in searching for trusted products, provides confidence in recommendations, and delivers ease of verification.
 
For buyers, BIFMA Compliant mitigates risk, improves employee safety and productivity, and provides buying confidence thanks to the product quality and performance.
 
BIFMA is crucial to ensuring quality, safety, and accessibility across the furniture industry as a whole, and Stance is proud to help lead the way toward compliance by over-engineering products to be more inviting for all. Learn more about our commitment to Improving Lives By Design at StanceHealthcare.com.