Making the Healthcare Space More Accessible by Design
Stance Healthcare's Carson family of products offers a range of flexible, inviting seating options, like the lounge chair and sleeper sofa. And now, Stance has added even more versatility to the line with the addition of a new Carson Recliner model with Patient Transfer Arm. With each product in the line offering its own unique benefits and uses, this durable, well-designed collection of furniture works together to offer a full range of applications and bring a better overall experience to the healthcare space.
The lounge chair offers style and comfort for waiting rooms and lounge areas, while the two- and three-seat sleeper sofas provide a versatile and inviting solution for visitors when they need it most. Every product in the Carson line offers flexible style and functionality, with a variety of options to suit the needs of any space. With customizable arm caps, legs, finishes and fabrics, along with a number of other functionality options, this truly is a collection designed with everyone in mind. But what really makes it so versatile is the addition of the Recliner With Patient Transfer Arm. It's the only recliner with a transfer arm that Stance Healthcare currently offers.
The Carson Recliner With Patient Transfer Arm offers a wide range of patient benefits that regular seating options can't. The arm allows the user to get in and out of the chair more safely and easily, while also making it easier for the healthcare provider to help transfer patients to a bed, wheelchair or other seating option. The side-folding transfer arm is activated by a flush pull mechanism on the chair, with an audible click to alert the user that the arm is locked in position, allowing for smooth and efficient transfer every time. The dependable design features stainless steel latches and hinges for increased durability and easy cleaning, helping healthcare professionals stay on schedule and provide the care and attention that each patient deserves.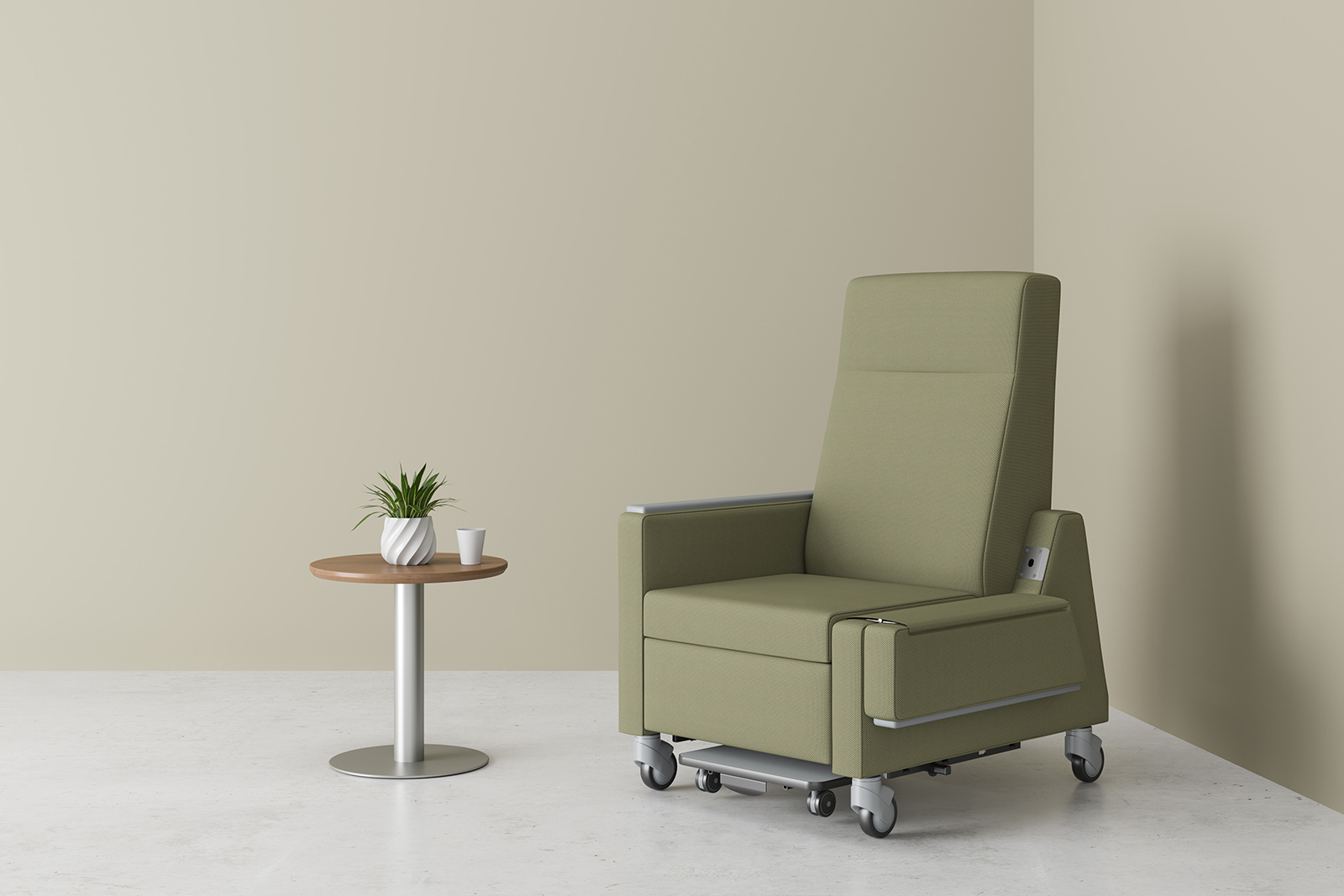 The Carson Recliner With Patient Transfer Arm fits seamlessly into the Carson collection and offers the same flexible design and customizable options as the rest of the line. With a variety of colors and fabrics to choose from, along with wood and solid surface finishes, there's something for every aesthetic with the Carson line. 
 
The new recliner also offers a variety of options to increase functionality, like a moisture barrier, slide-out tray, IV pole and holder, trendelenburg, accessory hook and central locking system. 
To see the newest Carson product and learn more about the customizable options available with this line, visit StanceHealthcare.com.