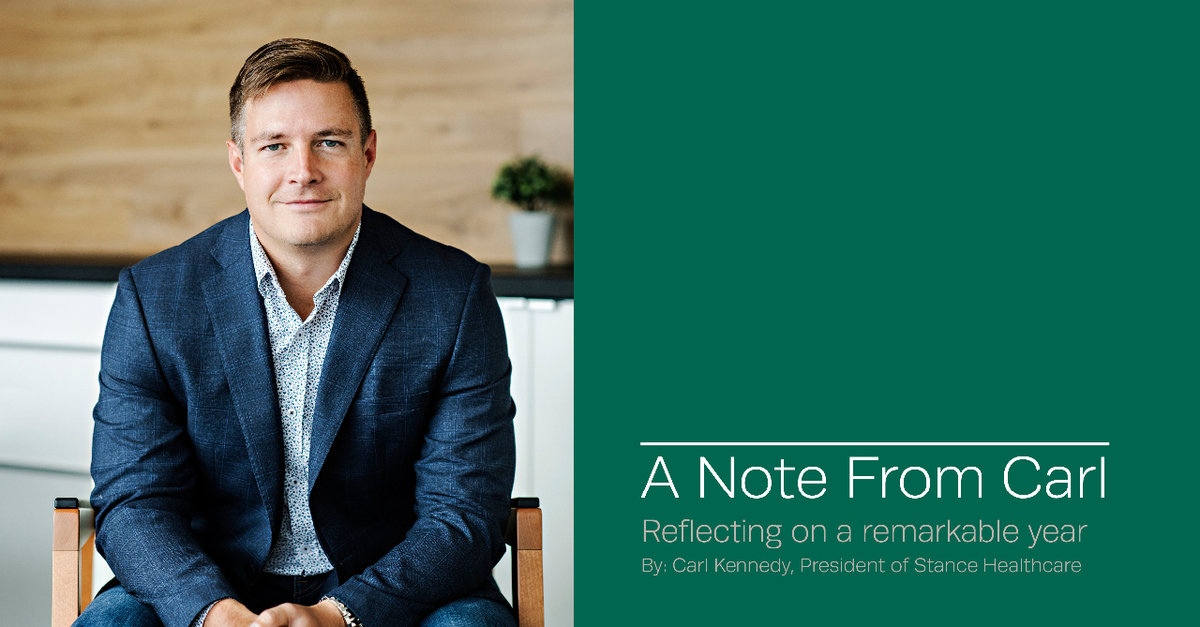 Happy New Year! Today, I am reflecting on a remarkable past year for Stance Healthcare, feeling grateful for the effort, passion, and talent fueling our growing brand into 2022. As we hit the ground running on many initiatives for the New Year, I want to pause and recognize the momentum that's carrying us – and what has made this past 12 months so exceptional. 
Highlights from an incredible 2021 include: 
Record-setting new product releases: 2021 was truly a year for the books. We celebrated our 15th year in business with a record number of new products for general healthcare and Behavioral Health settings – introducing 14 all-new products and four line extensions, to be exact. While the new product numbers alone are impressive, our fast-paced product development pipeline is a testament to what I'm most proud of: Our commitment to Improving Lives by Design is not only working, it's needed more than ever in this industry. 
A new brand mission: We kicked off the busy year by introducing our Improving Lives by Design brand – a mission that we've lived by for quite some time, but found the perfect words for in 2021. Along with our new brand mission statement, we revealed two new Stance websites and refreshed marketing materials to better provide our customers and partners with rich product information, case studies, and beautiful visuals that better reflect our new look, feel and tone. We also continued to give back financially to several organizations that reflect this mission, including: The United Way, Salvation Army, Make-A-Wish Canada, Hockey Helps the Homeless, and The Food Bank of Waterloo Region.
 
#1 ranked IDCEC Behavioral Health education: In 2021, Stance sponsored an IDCEC CEU course created and presented by our Behavioral Health Interior Designer, Suzanne Fawley. The course, entitled "Behavioral Health Design: Learning from the Past to Design for the Future", quickly gained popularity among those looking to deepen their understanding of Behavioral Health design. Over the course of the year, Suzanne presented 17 CEUs to over 500 interior designers and architects – and the course was ranked #1 on the IDCEC website for several weeks!
 
Another HCD award win: In 2021, we maintained our commitment to excellence in every product we introduced. We're grateful when that commitment is recognized by our industry peers – and in October, we were thrilled to take home our third Nightingale Award win at the Healthcare Design (HCD) Expo + Conference. The Flo Dining Collection for Behavioral Health, one of our 2021 new releases, won the Nightingale GOLD Award! 
 
Opening the Charlotte Showroom: While COVID persisted, we took steps to safely welcome visitors to our showroom in Charlotte, N.C. The space is an ideal setting for designers, facility managers, architects, and many others in the healthcare industry to explore our products, learn best practices and ways to modify for different settings, and collaborate on new ideas that support healing healthcare environments. 
 
All of this passion and great work in 2021 has prepared the way for another defining year for our Stance team and the products we thoughtfully bring to the healthcare marketplace. In 2022, look for several new products for Behavioral Health and general healthcare, new education (hopefully, in-person as well as virtual!) and networking opportunities, and more resources than ever before to support the development of more healing healthcare environments. 
From all of us at Stance Healthcare, stay well and thank you for all of your support! 
Warm regards,
Carl Kennedy