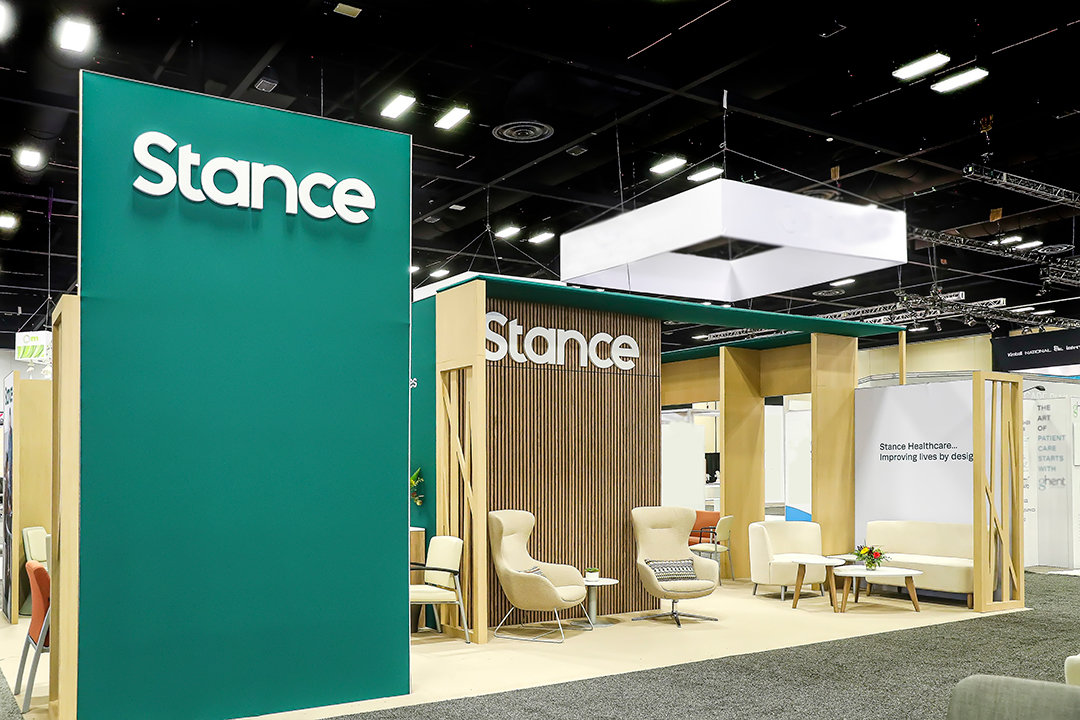 Back and better than ever! It was our pleasure to attend and exhibit at this year's HCD Healthcare Design Conference + Expo in San Antonio, Texas. In addition to spending time with our extended Stance team members and networking with many of our peers in the industry, we were excited to put our Improving Lives by Design mission on display – in our booth and through continued education opportunities.
We want to thank the Healthcare Design team for once again providing a wonderful forum for Stance and our industry colleagues to meet, exchange ideas, and draw inspiration together. Below are just a few highlights from an action-packed few days at HCD '22:
Our expo booth: Providing a pop of our signature color in a sea of neutral, Stance stood out and showed off our collections in style. This was the biggest and most sophisticated of our brand in an expo setting yet, and we were excited to make our mark by showing off our Improving Lives mission, new photography, and standout collections surrounded by warm and inviting tones. Thanks to all who stopped by to relax and enjoy our products and learn more about our mission!
Debuting Spry & Clover: Sitting pretty in our styled vignettes were our new and popular Clover and Spry collections, which both made their HCD debuts. Clover offered a wow factor with its eye catching cream finish and soft, welcoming shape, while Spry offered a comfortable and well-spaced seating area for groups to enjoy and explore the versatility of this new release.
Welcome back, Flo: Our 2021 HCD Nightingale GOLD Award winner was a crowd draw once again, with many dropping by to say they'd been eager to see the collection in person. Flo is our dining collection for Behavioral Health that offers many uses for patients and care providers to engage safely in therapy, conversation, or to share a meal.

     
Standing room only for Behavioral Health education: Speaking of Behavioral Health, the topic continues to be more relevant and popular than ever, as demonstrated by the amount of BH product-related inquiries we received from booth visitors, and the standing room only demand for our Behavioral Health Interior Design Consultant, Suzanne Fawley's 'BH 101' presentation on Sunday. There is still so much work to be done, and new insights to be discovered around every corner in Behavioral Health, and we will continue to do all we can to support this growing area with our products.
All in all, it was a successful and productive week at HCD. We are grateful for the opportunity to truly demonstrate what Improving Lives by Design is all about before our industry peers, and can't wait to return for more in New Orleans in 2023!