How Stance Refreshed Its Finishes To Keep Its Products Current
Stance Healthcare and Stance Behavioral Health have spent the past year refining and refreshing the finishes they offer in order to stay current and provide customers with choices. By providing more variety and more relevance in terms of finishes, Stance is better suited to fit the needs of any type of healthcare space.
Some of the new finishes were selected with specific spaces in mind. For instance, the new Rainbow Collection of Marmoleum finishes is bright, lively, and inviting, making them perfect for pediatric spaces. In addition to the Marmoleum Rainbow Collection, Stance also updated its standard Marmoleum collection to include 8 distinct finishes – Silt Stone, Withered Prairie, Red Horse, Cliffs of Moher, Trace of Nature, Urban Silver, Desert Sand, and Welsh Moor. The Standard and Rainbow Marmoleum finishes are available on the Resilia and Pavilion tables, available for both Healthcare and Behavioral Health.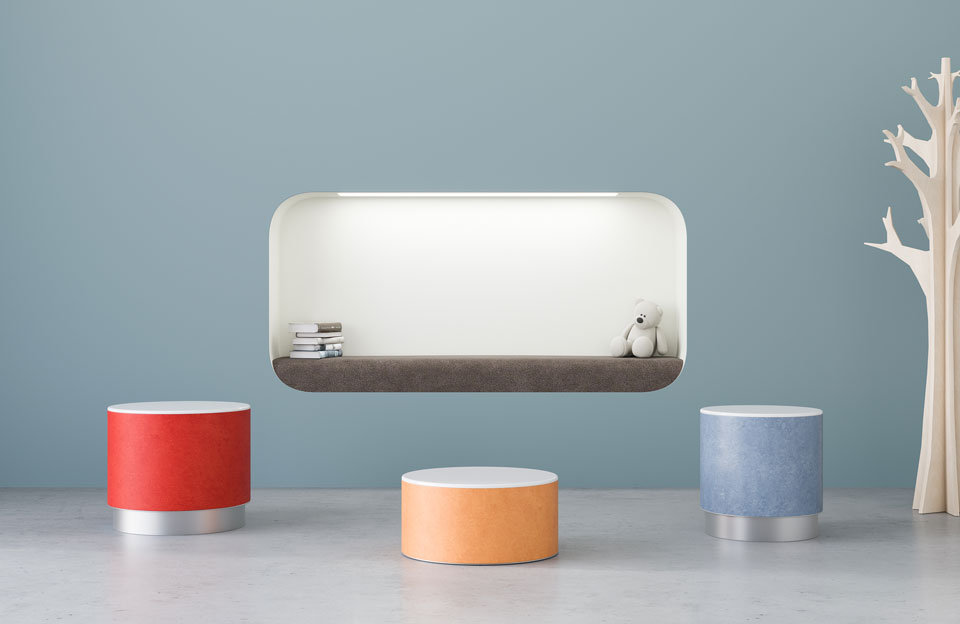 Stance also recently refreshed its offering of Corian® solid surface finishes. The company discontinued a couple of finishes but added  4 new ones to bring the number of Corian® solid surface finishes up to 8. They include  Glacier White, Camera White, Bisque, Linen, Pearl Gray, Silver Gray, Dove, and Canyon.

Stance's commitment to updating its finishes extended into its wood, laminate, and thermofoil offerings as well. Earlier this year Stance added four new finish colors to its portfolio of wood, laminate, and thermofoil. The new finish colors – Aria, White Chocolate, Dolce Vita, and Palomino – add even more style and versatility to our robust collection of laminate finishes. Further, Stance's new color options will match across all types of finishes – a unique offering in the healthcare furniture marketplace. (While other furniture makers may offer a variety of colors in each finish, they don't always match across all finishes.)
Stance Healthcare knows that every detail of the design matters, including finishes. That's why the company uses materials built to stand the test of time. That's important from a budget standpoint – healthcare facilities want durable pieces that withstand wear and tear and are easy to maintain. Stance strives to strike a balance between comfort and durability with every product it manufactures, and the finishes it uses to play a significant role in how it achieves this.
Finishes and colors play a factor in our moods, and in commercial settings including healthcare, color selections must be intentional. For example, a fast-food restaurant might select colors that encourage busyness for quick eating, such as red; in a healthcare setting, we aim for the opposite: soothing tones, patterns, and hues that conjure a sense of calm and comfort in patients, care providers, and visitors. Finishes in Stance's collection convey a neutral feel.
In addition to the wide variety of finishes it currently offers, Stance is open to quoting custom color finishes on a project-by-project basis. It's proof of Stance's dedication to remaining on the leading edge of hospital furniture design – and to improving lives by design. And, as a leader in the industry, Stance will continue to refresh and revamp the products it offers in order to better meet the constantly changing needs of the healthcare landscape.