Ideal for today's patient-centered healthcare environments, Jensen series merges pleasing aesthetics with comfort, function, cleanability, and durability
CHARLOTTE, N.C. – Stance Healthcare, a furniture designer and manufacturer specializing in general healthcare and Behavioral Health settings, announces two new collections: the Jensen Guest Seating collection and Jensen Lounge collection, both available as of March 1. Thoughtfully designed for today's modern healthcare facilities, Jensen is comfortable, easy-to-clean and blends stylish design with the strength of metal.
The new lines support Stance's signature design philosophy, which aims to improve the healthcare experience for patients, visitors, and care providers through comfortable, beautiful, long-lasting and easy-to-clean products. The Jensen Lounge Seating collection contrasts the status quo standards for traditional healthcare seating – which are often difficult to clean and maintain and uncomfortable – by providing both a high level of style and cleanability. A new genre of healthcare lounge seating, Jensen delivers a unique offering in the marketplace with its open arms, replaceable seat and back cushions, replaceable arm caps, and wall-saver frame design that protects walls against damage, all of which make the series easy to clean and refresh with new components if necessary.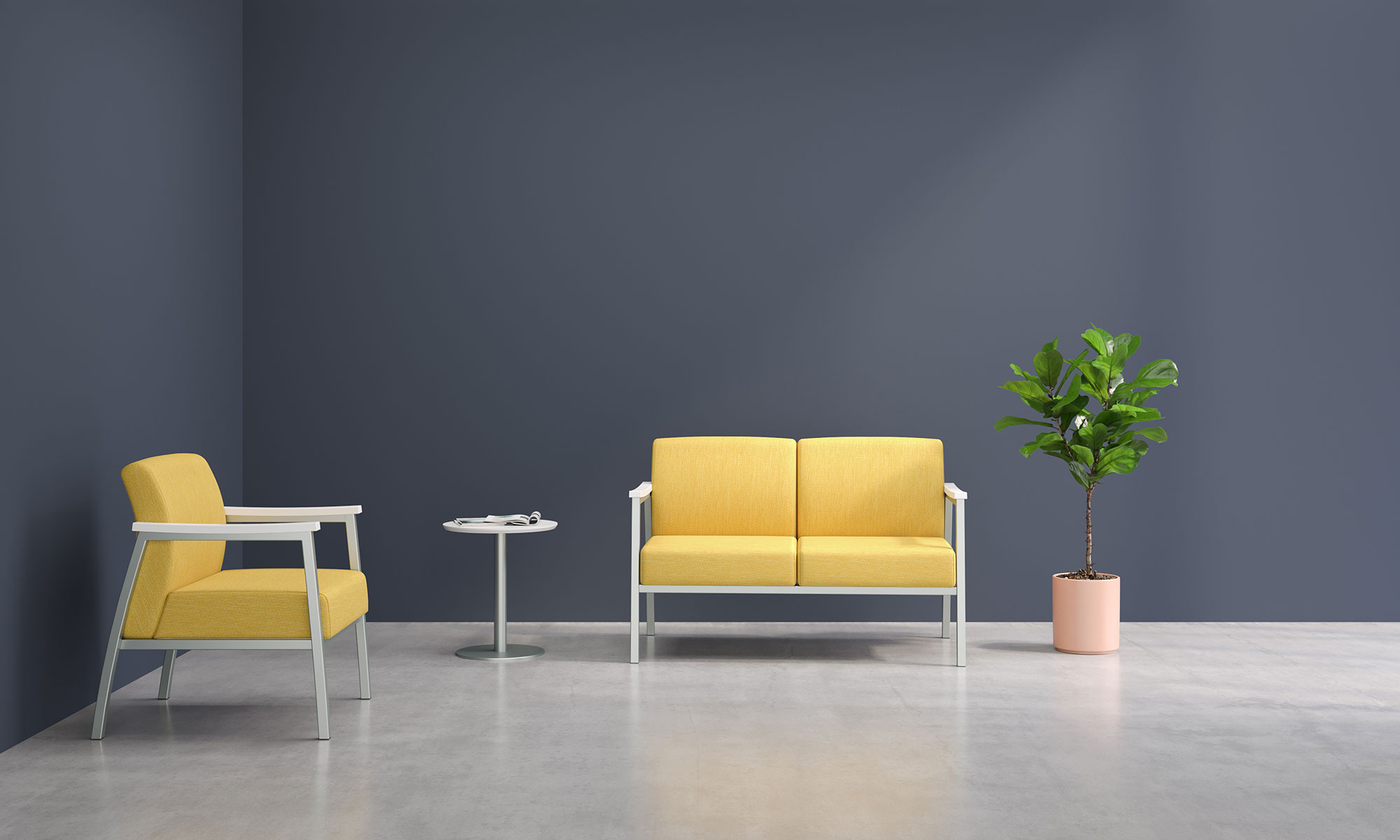 Compatible with the lounge seating is Jensen's Guest Seating collection, which provides an extensive choice of seating, bench seating, and occasional tables for healthcare facilities. The collection's broad offering allows facilities to maintain a consistent aesthetic, while meeting the design and cleanability requirements for different healthcare spaces.
"Unlike the typical healthcare seating options that come to mind – which can often be uncomfortable, unattractive, and difficult to clean and maintain – Jensen is an immediate contrast with its residential look, comfortable cushions, and highly cleanable design from every angle… down to its solid surface caps which allow for a higher level of infection control," said Carl Kennedy, Stance Healthcare's President. "Especially in the COVID era and beyond, furniture specifiers and patients alike appreciate a more sanitary healthcare experience, and furniture influences a significant aspect of that. Jensen makes sitting in the waiting room a more comfortable experience, with end-users' wellbeing in mind."
All products in the Jensen lines offer Stance Healthcare's highly cleanable, healthcare-grade surface finishes and fabrics, making them an ideal choice for facilities of all sizes and practices. Taking cleanability to a new level, the Jensen options, which include solid surface and healthcare-grade vinyl, are also more cleanable by design: Jensen provides both a generous clearance below the seats, offering easier access to floors for cleaning under furniture, and a design with reduced joint seams, which are prone to attract dirt and liquids.
In addition to supporting the cleanability story with reducing joint seams, the fully welded frame maximizes the frame's strength and eliminates the potential for key structural parts coming loose over time – guaranteeing a longer-lasting, high quality product that is reliable and easy to maintain. The collections, which are tested for durability and offer customized seating width options, also include a Limited Lifetime Warranty, optional moisture barrier, and custom frame and wood arm finish options.
Continuing the product innovation momentum forward, Stance Healthcare is pursuing an ambitious product development plan involving at least one product launch per month in 2021. Follow along on Stance Healthcare's blog, LinkedIn, and Instagram for regular updates on upcoming product launches, as well as engaging content centered on Stance's Improving Lives by Design mission that educates and inspires.
About Stance Healthcare
Founded in 2006, Stance Healthcare manufactures furniture for healing environments, with a particular focus on hospitals and behavioral health facilities. Stance Healthcare has a reputation for providing high-quality products that meet the ever-evolving demands in the areas of design, comfort, safety, durability, renewability, infection control and environmental sustainability. With a strong understanding of patient-centered design, Stance Healthcare is committed to providing innovative furniture solutions that support the healing process. Please visit stancehealthcare.com for the latest news and in-depth information on Stance Healthcare and visit https://stancebh.com/ to learn more about our Behavioral Health offerings and insights.
Media Contact:
Allison Eckley, The Brandon Agency
336.414.4972