Designed with infection control in mind, the sleek and comfortable Spry is a versatile seating collection with connected linking tables to create space between patients.

CHARLOTTE, N.C. – Stance Healthcare, a leader in furniture design and manufacturing for general and Behavioral Healthcare facilities, introduces the Spry Seating Collection. Featuring solid surface arm caps that come standard, Spry offers 360-clean out for maximum infection control, and coordinates with linking tables which create space between users.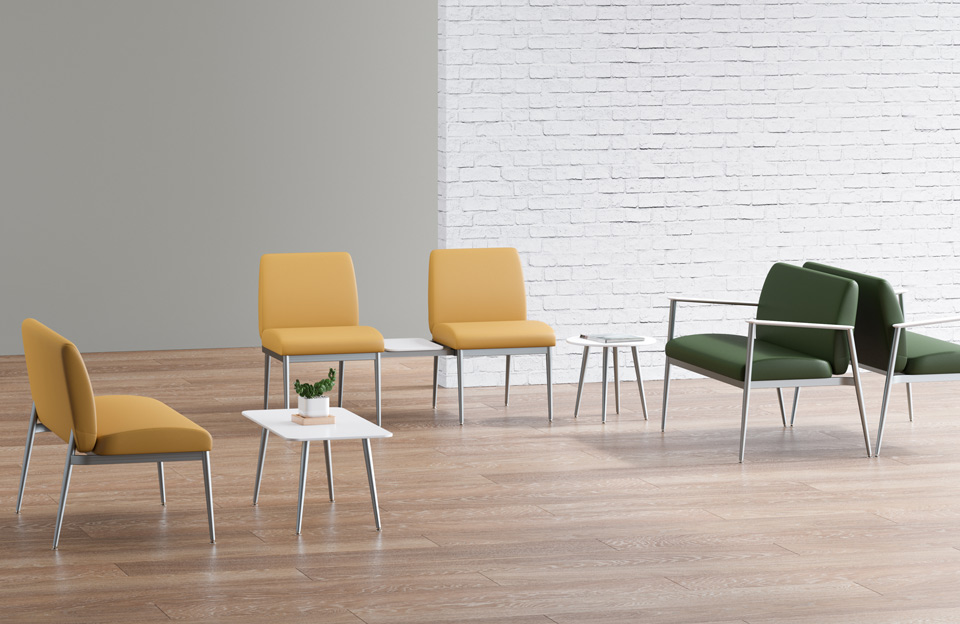 Designed with emphasis on flexibility, cleanability, and durability, Spry offers three different sizes of linking tables (6", 12" or 18"), and can be configured into seemingly endless table and chair combinations. Spry is also unique for its dual emphasis on function and form: The collection's sleek, yet comfort-forward aesthetic balances out this well-rounded new offering from Stance Healthcare.
"Spry can go anywhere, offering seemingly endless applications for healthcare environments," said Carl Kennedy, Stance Healthcare's president. "It is also innately easy to keep clean, with its 360 clean-out and solid surface arm caps, making it ideal for today's post-COVID cleaning requirements. We are so pleased to finally bring this versatile product to market and look forward to seeing how Spry contributes to many different healthcare spaces."
In addition to its versatility and beautiful form, Spry's solid surface arm caps – thin and simply designed for maximum cleanability – make the product a stand-out in the healthcare seating marketplace. Ideal for the social-distancing era and beyond, the ultra-cleanable Spry is also available armless for environments looking to minimize touch points. Spry's frame design facilitates thorough and efficient cleaning, and using materials like steel and solid surface ensure surfaces will hold up to today's accelerated cleaning protocols.
Spry's frames are fully welded for strength and to eliminate joint seams, and its carefully planned fastener placement keeps reachable touch points smooth, further providing easy to clean surfaces.
Spry is available for purchase now. To inquire about purchasing Spry for your healthcare space, speak with a rep in your area.
Follow Stance Healthcare's blog, LinkedIn, and Instagram to stay up-to-date on product releases, as well as engaging content centered on Stance's Improving Lives by Design mission that educates and inspires.
About Stance Healthcare
Founded in 2006, Stance Healthcare manufactures furniture for healing environments, with a particular focus on hospitals and behavioral health facilities. Stance Healthcare has a reputation for providing high-quality products that meet the ever-evolving demands in the areas of design, comfort, safety, durability, renewability, infection control and environmental sustainability. With a strong understanding of patient-centered design, Stance Healthcare is committed to providing innovative furniture solutions that support the healing process. Please visit stancehealthcare.com for the latest news and in-depth information on Stance Healthcare and visit https://stancebh.com/ to learn more about our Behavioral Health offerings and insights.