The Stance team heads to San Antonio for this year's HCD Conference + Expo.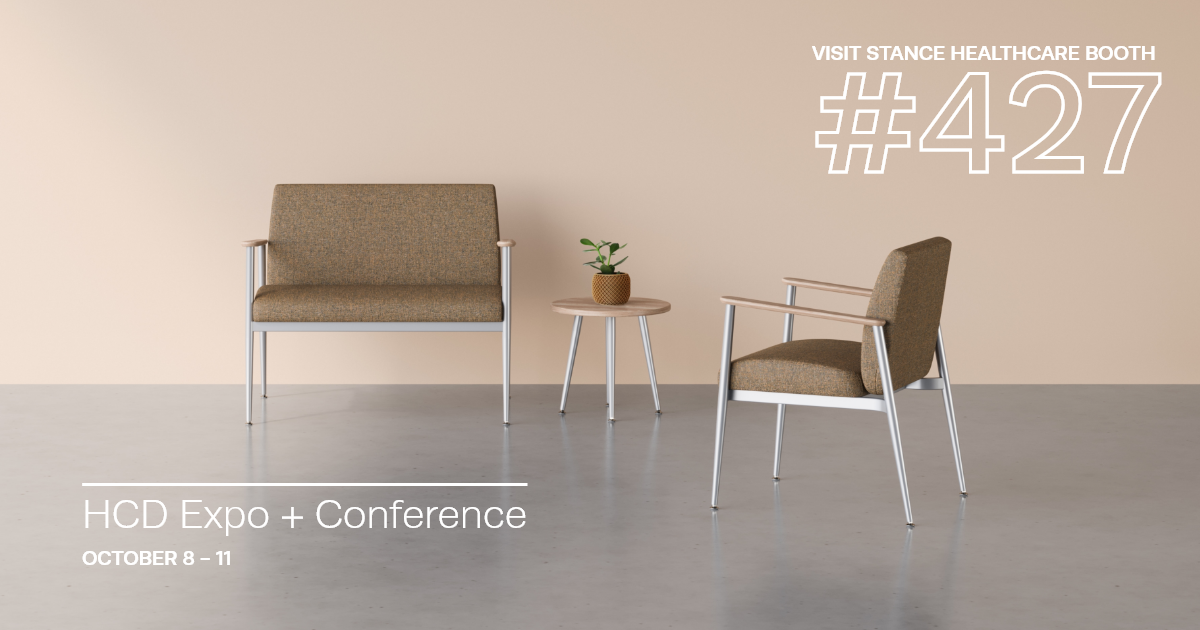 Stance Healthcare and Stance Behavioral Health are proud to be a part of the Healthcare Design Conference + Expo this year. HCD is the industry's premier networking, education and product-sourcing event where attendees can learn about the latest research, strategies, and products that support thoughtful design in hospitals and other healthcare settings. This is a great opportunity to build industry connections and showcase how Stance Healthcare and Stance Behavioral Health are improving lives by design.
 
Stance Healthcare and Stance Behavioral Health will have a variety of featured products on display at the expo, each offering unique design features and functions to suit the needs of different healthcare spaces. One of the highlights being showcased is last year's HCD Nightingale GOLD Award winner, our Flo Dining Collection. The Flo collection is a versatile dining furniture solution that provides style and durability in intensive use spaces. Exclusive for the 2022 HCD floor, we'll be showcasing the new version of the Flo chair that's launching next year, which features an upholstered back and seat pad for added style and comfort. Another Stance Behavioral Health staple being featured is the Frontier bed and bedside cabinet. Designed with safety in mind, the Frontier collection features rounded edges, a rotationally-molded frame and easy-to-clean surface for a comfortable patient experience. 
Stance Healthcare will also have a variety of seating and surface options on display at HCD. One of those is the Clover lounge chair, a popular new release from the past year, which will be showcasing its new Palomino wood finish. The stylish, comfortable lounge collection is available in a variety of fabrics and finishes to provide a warm, relaxing environment in any healthcare setting.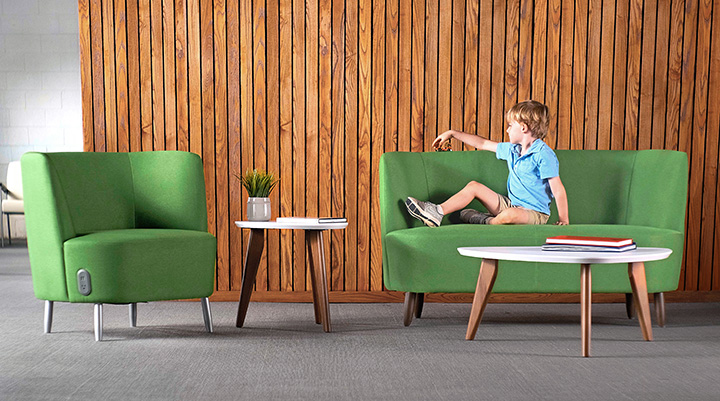 Joining the lounge seating collection display are Jensen and Valet: The stylish and strong Jensen lounge collection offers a mid-century design with steel-welded structural integrity to provide a modern look that lasts for today's healthcare facilities, while we will display the Valet High Back lounge chair in its original wire, disc, and new swivel base options. The Valet High Back has a clean, stylish design that creates a calming aesthetic and encourages patients and visitors to sit in comfort.  
Adding to the exhibited seating options at the expo are the Porto bench and some highlights of our Metal Seating collection — including the Legend, Marathon and Quantum lines. The Porto bench is built to withstand heavy use and offers a clean, contemporary look for modern healthcare facilities. The bench comes in 2-seat and 3-seat designs, with solid surface and power/USB options available. The versatile Legend, Marathon and Quantum seating options are available in a variety of sizes, fabrics and finishes to fit in anywhere. Offering a clean design, lasting durability and accessible pricing, the Stance Healthcare Metal Seating collection is the broadest selection in the industry.
But seating isn't the only category on display at this year's HCD Expo. We are excited to feature a range of table options at the expo as well, starting front and center with our 2022 new release, the versatile Spry collection. The Spry collection features a strong, stylish chair with optional 12" connecting tables. Designed with infection control in mind, the sleek, comfortable collection is easy to clean and provides ultimate flexibility and functionality.
The next surface option being showcased is the Resilia drum table, featuring a highly-durable Marmoleum surface that's easy to clean and hard to crack or chip. Available in a variety of sizes and finishes, the 2017 Nightingale GOLD award winner brings style and dependability to the healthcare space. Also added to the mix is the versatile and sleek Iris table, which complements a range of seating arrangements and offers a practical solution for the surface needs of healthcare spaces. Finally, we will also exhibit the Zurich table, now with a new Palomino wood finish option for the legs. The Zurich coffee table and end table feature a modern design with a strong, stable base to provide practical style and seamless functionality.
In addition to showcasing products, Stance Healthcare and Stance Behavioral Health will join industry peers in learning and exchanging ideas together. Suzanne Phillips Fawley, the Behavioral Health Interior Design Consultant at Stance Behavioral Health, will lead a presentation at the expo on October 9. She'll go over the dos and don'ts of behavioral health design and offer tangible takeaways that empower attendees to support healing environments through their design selections. Backed by research, subject-matter expertise, peer insights and years of industry experience, this session will guide and inspire attendees to approach behavioral health projects with humanity, confidence and passion  — providing a better overall experience for patients, care providers and visitors alike.

We hope to see you at Booth #427 in San Antonio!