Uniquely designed for each user's comfort and convenience, Clover launches today from the Healthcare Design award-winning furniture manufacturer
CHARLOTTE, N.C. – Stance Healthcare, a leader in furniture design and manufacturing for general and Behavioral Healthcare facilities, introduces the Clover Lounge Collection featuring three comfortable, inviting options. With its sculpted back and open seat that encourages relaxed seating positions, Clover provides comfort that feels tailored to each individual.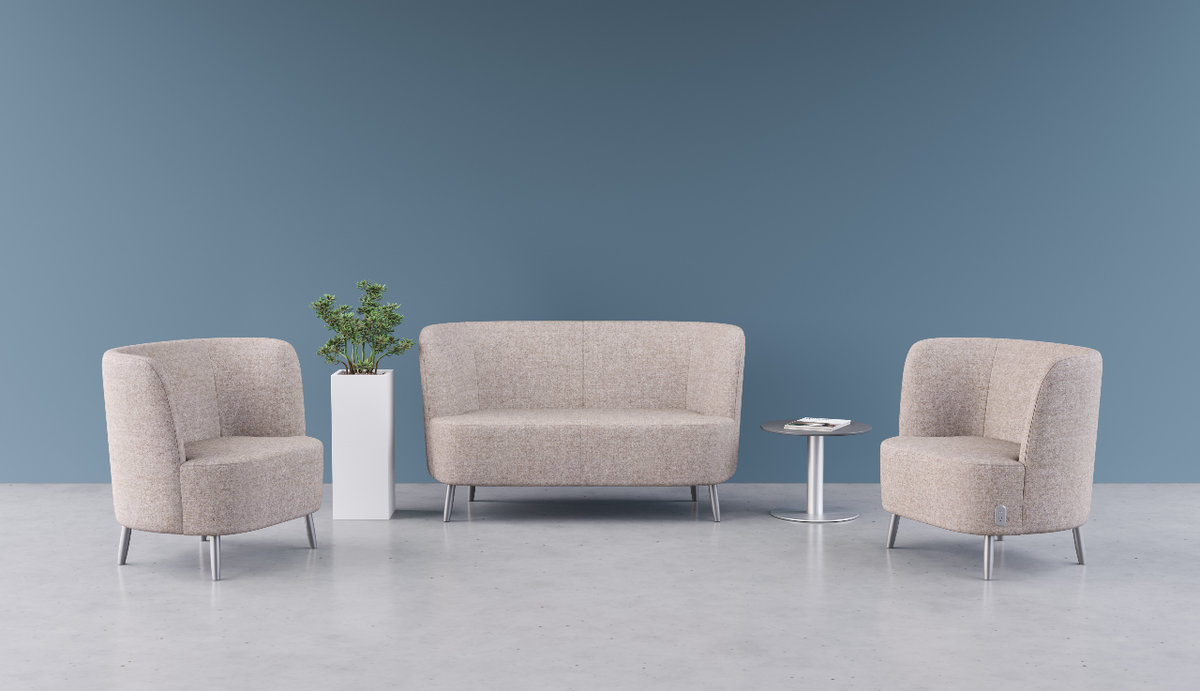 The new lounge collection offers freedom of movement for patients, visitors, and care providers, with a curvilinear design that encourages end-users to relax in a variety of lounge positions. Ideal for today's modern healthcare settings, Clover can be enjoyed by multiple people at once, including parents with children or by individual parties comfortably sharing the lounge chair.
Clover is designed to surround patients, visitors and care providers with beautiful curves and modern styling, and is offered in single, two-seat and three-seat lounge chair size options. An available power/USB port is conveniently offered on either one or both sides of the chair, further enhancing Clover's practicality and relevance to today's healthcare environments.
Clover features engineered plywood for enhanced durability, and a nylon webbed seat deck for increased comfort. Its chair legs are offered in a choice of wood or powder coated steel leg. And continuing Stance Healthcare's commitment to blending comfort with durability, Clover features nylon glides to protect floors from damage. Other options include contrasting fabrics and a moisture barrier.
 "With Clover, we have the high-quality fabrics and finishes you'd expect from Stance products, with the added benefit of being able to accommodate a family or multiple users at once," said Carl Kennedy, Stance Healthcare's president. "Not only is Clover a beautiful and very comfortable lounge collection, it's more importantly a series that anticipates the needs of multiple types of users at once – whether you need to charge your phone, or comfort a child or loved one in a relaxed position."  
The Clover release is the latest collection of several to launch this year from Stance Healthcare, which began 2021 with an aggressive product development agenda.
New releases from Stance Healthcare and Stance Behavioral Health for 2021 also include:
Terrace Outdoor Collection for Behavioral Health (released in September)
Flo Dining Collection for Behavioral Health (released in July)
Pier Tables for Behavioral Health (released in July)
Gem Occasional Table (released in May)
Iris Occasional Table and Iris Occasional Table for Behavioral Health (released in May)
Valet and Valet for Behavioral Health (released in April)
Jensen Guest Seating Collection and Jensen Lounge Collection (released in March)
Follow Stance Healthcare's blog, LinkedIn, and Instagram to stay up-to-date on product releases, as well as engaging content centered on Stance's Improving Lives by Design mission that educates and inspires.
About Stance Healthcare
Founded in 2006, Stance Healthcare manufactures furniture for healing environments, with a particular focus on hospitals and behavioral health facilities. Stance Healthcare has a reputation for providing high-quality products that meet the ever-evolving demands in the areas of design, comfort, safety, durability, renewability, infection control and environmental sustainability. With a strong understanding of patient-centered design, Stance Healthcare is committed to providing innovative furniture solutions that support the healing process. Please visit stancehealthcare.com for the latest news and in-depth information on Stance Healthcare and visit https://stancebh.com/ to learn more about our Behavioral Health offerings and insights.