Designed for therapeutic settings, Terrace is the first outdoor series from the Healthcare Design award-winning furniture manufacturer
CHARLOTTE, N.C. – Stance Healthcare, a leader in furniture design and manufacturing for general and Behavioral Healthcare facilities, introduces Terrace, their first-ever outdoor furniture collection. Available starting September 30, the Terrace Outdoor Collection invites patients, staff and visitors to connect with nature and its benefits in their overall healthcare experience. 
The contemporary, modern collection of tables and benches extends care beyond the facility walls and into outdoor common area spaces with safe and nurturing surroundings. Minimalist in design and heavy-duty in construction, Terrace features rounded corners and tamper resistant hardware to enhance safety and durability. 
Providing exceptional durability for a safe healthcare environment, Terrace's tables and benches can be bolted down for permanent settings and emphasize ligature resistance in their design. Terrace's surfaces are created for longevity of use and are available in perforated steel or High Density Polyethylene (HDPE), both providing superior resistance to corrosion, UV damage and fading. The highly customizable series is offered in a variety of sizes and finishes, including several color options.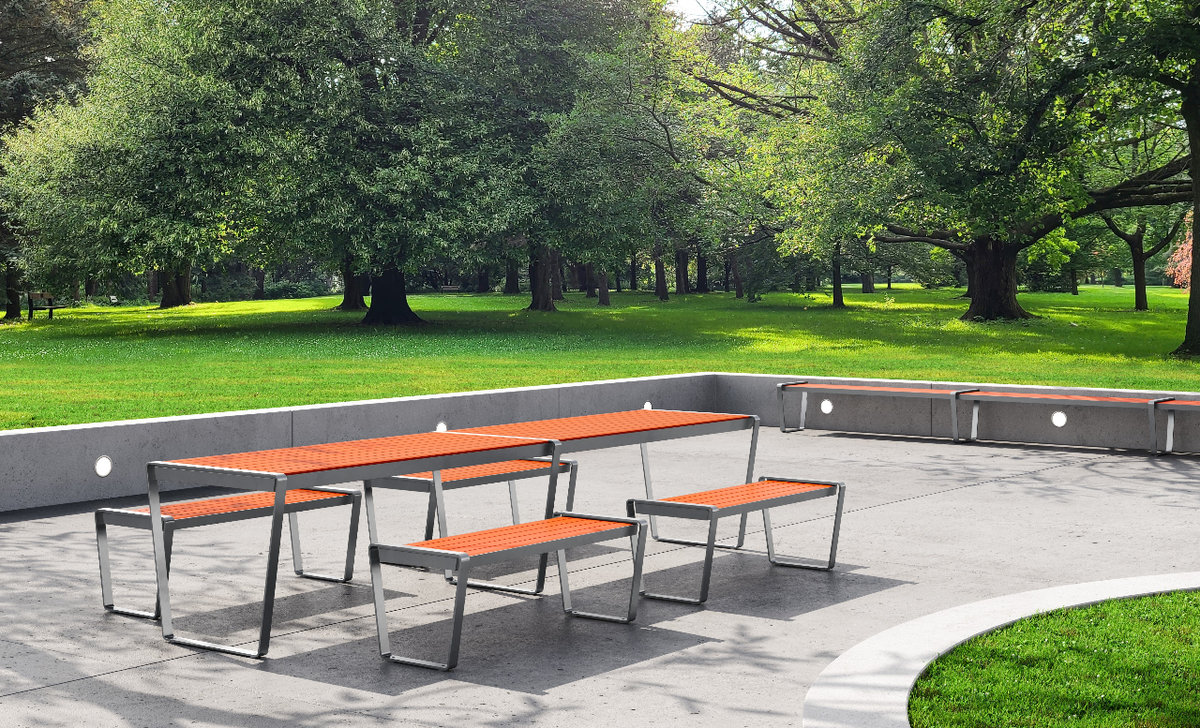 "Terrace is a fresh new approach to outdoor seating that works well for both general and Behavioral Health settings," said Suzanne Fawley, Stance Healthcare's Behavioral Health Interior Designer. "Whether for rest or active therapy, the outdoors are increasingly being utilized in treatment environments, and Terrace is a safe, easy to maintain, yet comfortable option for patients and caregivers alike." 
The Terrace release is the latest collection of several to launch this year from Stance Healthcare, which began in March with an aggressive product development agenda. 
New releases from Stance Healthcare and Stance Behavioral Health for 2021 also include:
Flo Dining Collection for Behavioral Health (released in July)
Pier Tables for Behavioral Health (released in July)
Gem Occasional Table (released in May)
Iris Occasional Table and Iris Occasional Table for Behavioral Health (released in May)
Valet and Valet for Behavioral Health (released in April)
Jensen Guest Seating Collection and Jensen Lounge Collection (released in March)
Following their 2019 Nightingale GOLD win for the Frontier (Behavioral Health) collection, the Stance team is excited to attend this year's Healthcare Design Expo + Conference next month in Cleveland – Booth #4051. In the meantime, follow Stance Healthcare's blog, LinkedIn, and Instagram to stay up-to-date on product releases, as well as engaging content centered on Stance's Improving Lives by Design mission that educates and inspires.
About Stance Healthcare
Founded in 2006, Stance Healthcare manufactures furniture for healing environments, with a particular focus on hospitals and behavioral health facilities. Stance Healthcare has a reputation for providing high-quality products that meet the ever-evolving demands in the areas of design, comfort, safety, durability, renewability, infection control and environmental sustainability. With a strong understanding of patient-centered design, Stance Healthcare is committed to providing innovative furniture solutions that support the healing process. Please visit stancehealthcare.com for the latest news and in-depth information on Stance Healthcare and visit https://stancebh.com/ to learn more about our Behavioral Health offerings and insights.